Janet Davis Music Company - Banjo Store
800-933-5362 TOLL FREE in the US
501 855-0700 Information & Foreign
501-855-0451 (fax 24 hours)
"Click Underlined Words For Pictures Or Other Information."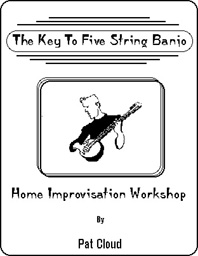 This great new volume introduces a sound concept for improvisation for bluegrass as well as laying a foundation for jazz playing. It will surely be of interest to any banjoist seeking to expand their awareness and understanding of harmony as it relates to the 5-string. In this 50+ page volume, jazz banjo pioneer Pat Cloud takes you on a fascinating journey, pointing out new ways to visualize and conceptualize the standard chord forms and positions that all banjo pickers have come to recognize. It utilizes five "sonic shapes" which train your left hand for facility and ear/hand coordination. You'll now be able to put all those licks into context!
Click on the book to see a sample page.
B-PC96926 BOOK & TAPE: $19.95

---

Free Call 800-933-5362 for Credit Card and COD only.
(24 hr.) Fax: (501) 855-0451
Information & Foreign: (501) 855-0700
Shipping Rates
Order by Email